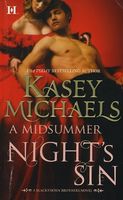 Series: Blackthorn Brothers (Book 2)
Meet the Blackthorn Brothers -- three unrepentant scoundrels infamous for being mad, bad and perilous to love.
Handsome as the devil and twice as tempting, Robin "Puck" Blackthorn lives for the pleasures of the moment. His only rule -- never dally with an innocent woman. But when an encounter at a masquerade ball leaves him coveting the one woman who refuses to succumb to his charms, Puck realizes that some rules were made to be broken….
Scandalized to discover that the masked man with whom she'd shared a dance -- and a forbidden embrace -- is in fact the ton's most celebrated rake, Regina Hackett vows to keep her distance. Yet when her cousin vanishes, it is to Puck that Regina must turn. And as they embark on a dangerous journey through London's darkest alleys, Regina will discover that beneath Puck's roguish facade lies a man who will stop at nothing to protect her -- or to convince her to take a chance on an unrepentant sinner.
Great book. I could tell immediately that Puck may be a cheerful rogue, but he is also a very intelligent one. I loved the way he put the moves on Regina at the ball, then backed off when he realized she was an innocent. Then he immediately jumped in to help when Miranda went missing. His creativity was amazing. I really liked the way that Regina was able to keep her head at the beginning and help Puck come up with the story they used. I also liked the strength she showed in insisting on helping, not just staying behind. I enjoyed the detective work they did, and seeing Jack and his friends helping along the way. The chemistry between Puck and Regina was pretty intense, and I loved the caring that was there from the beginning.