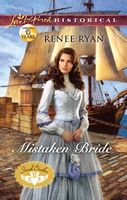 Series: Irish Brides (Book 2)
When William Black's mail-order bride fails to appear at the Boston docks, he's relieved when beautiful, vibrant Bridget Murphy steps in. However, she has a surprise in store. She will be a temporary nanny to his young twins…but she will not marry without love.
Faith Glen, Massachusetts, is worlds away from the poverty Bridget knew in Ireland. And William Black couldn't be more different from her faithless ex-fiancé. Yet that integrity Bridget so admires binds William to a promise that could keep them apart forever. In this new land of opportunity, does she dare to wish for a happy ending?
Excellent book. I loved Bridget and her way of helping everyone she met. Will had originally asked her to marry him, but purely as a business arrangement. He had been betrayed before and refused to open himself up to that kind of hurt again. Bridget would not marry him, but she offered to be his children's nanny. As soon as she met them, they started to come out of their withdrawn states and act more like children. Will also found himself healing from that previous hurt. They almost lost their chance, but everything worked out in the end. I enjoyed seeing people from the first book, including the McCorkle brothers. I also enjoyed seeing the beginnings of a relationship for Nora. I can't wait for the final book!