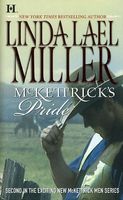 Series: McKettrick Cowboys (Book 7)
The only wide-open space Rance McKettrick wants to see in his future is his hometown in his rearview mirror. The down-to-earth ex-rancher is determined to make a fresh start with his two young daughters--and leave his heartbreaking loss and family's successful corporation far behind.

He sure doesn't need Indian Rock's free-spirited new bookstore owner Echo Wells confusing his choices--and raising memories he'd rather forget. But her straightforward honesty and reluctance to trust is challenging everything Rance thought he knew about himself. And when their irresistible attraction puts their hearts on the line, Rance and Echo must come to grips with who they really are to find a once-in-a-lifetime happiness.
Very good book. The book blurb isn't quite right though. Rance isn't trying to leave his hometown behind. He has been working a lot, trying to outrun his grief and not succeeding. All he's done is spend too much time away from his girls. So he decides to give up the corporate world and go back to ranching and be there for them. Echo has arrived in Indian Rock to open a bookstore. Though Rance's intense focus on business reminds her of her ex-fiance, she is still very attracted to him, as he is to her. She doesn't trust that any feelings will last. Meanwhile, Rance is blowing hot and cold, as his intense feelings for her have him running scared. I love how good Echo is with his daughters, and her attachment to the dog is wonderful. I loved Rance's McKettrick protectiveness and the way it came out around Echo, and her ability to get him to think about things other than business.