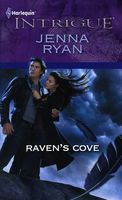 The reappearance of Rogan signaled she needed protection. They'd lived together for months in a safe house, her life in this mysterious detective's hands. Dark haired and heavyhearted, Rogan had allowed his and Jasmine's fates to be intertwined, just as someone from her past sought to kill her....

Rogan and Jasmine had ended their romance because of the danger it had brought. Now, if they hoped to stop the killer, they would have to revisit Raven's Cove, the birthplace of the ancient legend he twisted to suit his dark mission. And uncover the secrets still left between them...
Good book. Jasmine was pretty cool about keeping her head in a crisis. I also liked the way she didn't just sit back and be protected. Rogan was pretty cool too. I liked the way he could just appear. He did a great job of protecting Jasmine, and you could tell he had feelings for her. He had issues with feeling that he was not good enough for her because of things he perceived as failures in his past. Jasmine tried very hard to get through to him about her feelings. The suspense in this book seemed mostly of the psychological kind - made it pretty creepy at times. The bad guys was and wasn't who I thought it was.