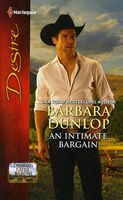 Series: Colorado Cattle Barons (Book 3)
The one person who can help Zach Rainer close a life-changing deal turns out to be the very woman he just slept with. He knows Abigail Jacobs is attracted to him...but is that enough incentive for her to betray those she loves?
Desperate to leave her family's ranch, Abigail believes Zach might be her perfect hero...until his true motives are revealed. What was once a simple affair has become a complicated relationship...one that has her battling her own heart. How can she possibly love a man who wants her to choose between him and her family?
Very good book. When Zach and Abigail had their one night stand, they never expected to see each other again. When he comes to her for help getting the permits to expand his business he doesn't know it would go against everything her family believes in. Because he desperately needs that help, he uses what he knows of her to blackmail her into helping him. As they spend time together working on those permits, they get to know each other better. Zach has no knowledge of how a family works, having grown up in foster care, but his business is his family so he'll do what he needs to. Abigail hates working on the ranch and longs to do the work that makes her happy, but loves her family too much to tell them so. I love the way that Abigail comes to love Zach and will do anything to help him. And Zach's love for Abigail is so strong that he will do anything to protect her and help her realize her dreams. I loved the conclusion to this story and can't wait to see Seth and Travis get their stories.