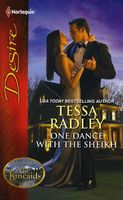 Series: Dynasties: The Kincaids (Book 5)
A spontaneous, passion-filled Vegas romp with a sheikh is out of the ordinary for sensible Laurel Kincaid. She's walked the straight-and-narrow her entire life and has wound up with more stress and conflict than she can handle. Indulging in a jaunt with irresistible Rakin Whitcomb Abdellah is a delicious escape. So delicious that she says "I do" to a short-term marriage of convenience so he can claim his inheritance. But being husband and wife behind closed doors is more tantalizing than either of them expected, and suddenly the rules of their temporary marriage feel very inconvenient….
Loved the book - there's nothing like a sexy sheikh to make fun reading. Laurel was tired of being the sensible sister, and decided to make a "Get a Life" list. On that list was "flirt with a stranger". Rakin was fascinated by Laurel when he met her at Eli and Kara's wedding. Eli had suggested asking Laurel for her help in claiming his inheritance, so that is what he did. He offered Laurel the opportunity for the adventures she wanted in exchange for her help. Once they were married, Laurel found herself really liking Rakin and the man she was getting to know. That liking turned into love, and she started to dream of a future with him. Rakin had not really been exposed to love, and had had no intention of marrying. As he gave in to his attraction for Laurel, the intensity made him very nervous and he kept trying to withdraw and bury his feelings. When their differing outlooks caused a rift, Laurel returned to Charleston. I loved seeing Laurel as she let go of her inhibitions and started to enjoy life. I enjoyed seeing Rakin's attempts to deny his feelings, and his capitulation at the end.