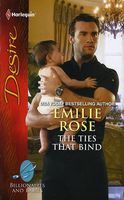 Series: Billionaires and Babies (Book 28)
He never intended to be a father. Yet an ex's underhanded actions result in a baby even jaded Pierce Hollister cannot deny. He needs a nanny immediately. But Anna Aronson, the perfect woman for the job, has her own infant to care for. Now Mr. Solitary is living in a home filled with babies!
The domestic situation completely rocks Pierce's carefully constructed world, and his attempts to keep his distance are soon compromised by the desirable Anna. But when a past complication threatens everything… will the billionaire daddy fight for what's become his?
Very good book, with another anti-marriage, anti-kids man laid low by a baby. Pierce had closed himself off emotionally after losing everyone he had cared about. When he ended up with custody of his son, he needed a nanny immediately - one who would keep "the boy" far away from him. Anna is perfect for the job, but has her own son to care for also. Anna can't believe how cold and distant Pierce is, and tries to get him to bond with his son. Pierce is very distrustful, and doesn't really believe that Anna is as good as she seems. He is sure she has an angle of some sort. He finds that she is getting under his skin, and starts to interact with his son. When his son's mother returns and takes Graham home, he dismisses Anna and tries to return to his former life. The conclusion was great, and I loved the epilogue.