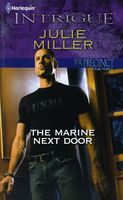 Series: Precinct: Task Force (Book 1)
Maggie Wheeler never stopped looking over her shoulder. It was a habit she'd learned from being a cop...and from a devastating event in her past. So when John Murdock moved in next door, Maggie didn't know what to make of the sexy Marine. But once her son formed a bond with the mysterious stranger, Maggie knew that past might not remain hidden much longer....
With his unwavering sense of duty, John would never let a call for help go unanswered. Especially from the beautiful wounded warrior who refused to give up her secrets. Although she likely knew more about who was after her than she'd ever let on, John vowed to protect those in need. Only then could he find peace, maybe even a door away....
I loved this book. First, I'm a sucker for a story with a military hero, especially a Marine. Second, it was a great book. There's a serial rapist in Kansas City and Maggie is on the task force to help find this guy. Maggie is also a single mother of a 9 year old son and a survivor herself. John has just returned to KC and is returning to work at the fire department, this time as an arson investigator. He and Maggie meet as he is moving into the apartment next door to her. He is there when strange accidents start happening in the apartment building, and steps up to help protect Maggie and Travis. I really liked the way that John bonded so quickly with Travis. He also found himself enjoying the time he spent with them, and discovered that being around them made him happy - something he hadn't been in awhile. I also liked the way that while he was available to help, he didn't take over but supported Maggie in what she needed to do. Maggie hadn't been this close to a man since her ex-husband and was amazed at how quickly she developed feelings for John. I really liked seeing the way she opened up with him. I also liked the fact that she simply accepted his war injuries for what they were and didn't make a big deal about them.