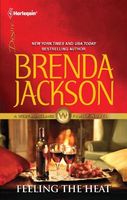 Series: Westmorelands (Book 22)
Their long-ago affair had ended too abruptly. And Dr. Micah Westmoreland knows Kalina Daniels hasn't forgiven him. But now that they're working side by side, he can't ignore the heat that still burns between them. This time, there will be no question about his motive...he plans to make her his.
Very good book. I liked the way that Micah admitted that he let his anger keep him from going after Kalina two years before. And that he was determined to prove to her he had been telling her the truth. Kalina had held on to her anger and hurt until they ended up working together again. As Micah did his best to show her who he really was and that she could trust him, she realized that she hadn't stopped caring for him. I enjoyed seeing their trip to Denver, and watching her get to know the other Westmorelands. I also loved seeing how the other wives talked to her about what it was like being with a Westmoreland man.