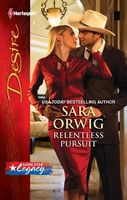 Series: Lone Star Legacy (Book 1)
A cool million to help a withdrawn child in time for kindergarten? Widowed teacher Ava Barton is touched that the girl's guardian, Texas billionaire Will Delaney, cares so deeply. But the job includes moving into Will's mansion for the summer. And suddenly, Ava is working nights and weekends trying—unsuccessfully—to resist the gorgeous tycoon down the hall. Will wants her in his bed for June, July and August. But come fall, he'll move on. Unless she can teach him a thing or two about opening his guarded heart to love.
I liked the story in this book. Will is at his wit's end trying to help his niece, Caroline, who has been withdrawn since the death of her father. He found Ava and convinced her to move to his home for the summer to work with Caroline. Will's devotion to Caroline is very moving, and I love how hard he tries. I loved the way that Ava was able to connect with Caroline and make suggestions on how to help her. My problem with the book is the relationship between Ava and Will. He is upfront about his intentions to get her in his bed, without making any commitment to a relationship. Ava states an equal determination that she won't have an affair without love. The problem with Will is that he doesn't listen to what she is telling him and keeps pushing, almost to the point of harassment. I know he is developing those feelings, but I feel he should be at least somewhat more sensitive to her wishes. Meanwhile, Ava keeps saying no, but then giving in a little and then pushing him away. I can't stand the way she doesn't stick to her guns. I just wish there had been a better compromise between developing the sexual tension and having a healthy relationship.