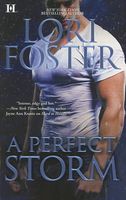 Series: Men Who Walk the Edge of Honor (Book 4)
He never saw her coming…
Spencer Lark already knows too many secrets about Arizona Storm, including the nightmare she survived and her resulting trust issues. But in order to expose a smuggling ring -- and continue avenging his own tragic past -- the bounty hunter reluctantly agrees to make Arizona a decoy. Yet nothing has equipped him for her hypnotic blend of fragility and bravery, or for the protective instincts she stirs in him.
Arizona wants to reclaim her life, which means acting as bait to lure the enemy into a trap. Sure it's dangerous, especially with a partner as distractingly appealing as Spencer. But as their plan -- and their chemistry -- shifts into high gear, Arizona may discover there's an even greater risk in surrendering her heart to a hero….
Very good book. I have loved the whole series, and I really looked forward to this one. Arizona survived her own time as a victim of the human traffickers and is intent on stopping as many as she can. To do that, she enlists the help of Spencer Lark, bounty hunter, who has been doing the same thing. Arizona is an incredibly talented fighter who can be a bit reckless. She is friends with the other three guys, but still has issues believing that she can be a part of the family. She is attracted to Spencer, but doesn't know if she can do anything about it. Spencer has worked with Arizona before, and has always been attracted to her. He is also eleven years older than she is and feels it is too great a difference. He is also still recovering from the death of his wife and doesn't expect to care for anyone else that way. The give and take between the two of them is great. I loved the way all the guys finally see her for the capable person she is.