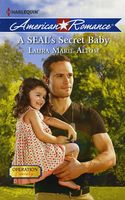 Series: Operation Family (Book 1)
Boot Camp Didn't Prepare Him For This!
Navy SEAL Deacon Murphy's tryst with Ellie Hilliard was white-hot, but quickly forgotten when she met her husband, his best friend, Tom. That was fine by Deacon. As a rule, he avoided making commitments, at least to anything other than the navy.
But when Tom died, Deacon promised that he'd watch over Ellie and her daughter, Pia -- not knowing that Pia was actually his, and never expecting that he'd fall for them both in the process.
Ellie is terrified of getting too close to Deacon, and not just because of his high-risk career. Losing Tom was hard enough. If Tom's parents knew the truth about Pia, she could lose them, too -- and they're the only family she has left.
Wow. This was an incredibly emotional book, with so many things going on. Ellie was trying to cope with her husband's death. She had loved him deeply and missed him very much. She was also coping with a terrible amount of guilt. She had had a one-night tryst with her husband's friend Deacon before she met Tom, and ended up pregnant with his child. Neither he nor Tom knew the truth. With Tom's death, she knows she needs to tell Deacon the truth, but she is afraid of what the consequences will be. Tom's parents are the only family she has left, and she's afraid if they know the truth she will lose them too. When she tells Deacon he is stunned and has to deal with the idea of being a father. He had had a terrible childhood and had no idea if he knew how to be a good father. He also had to deal with the guilty feelings of knowing his best friend's child was actually his. As he got to know Pia, the love he felt for her was overwhelming. He also found himself developing feelings for Ellie, and she for him. Neither of them could deal with the guilty feelings this caused and found themselves constantly getting close then pulling away. Thanks to his missions as a SEAL, they also spent a fair amount of time separated, so this story took more than a year. This actually made the book feel even more realistic to me. There were some fun parts in the book, including Deacon's first attempt at diapering.