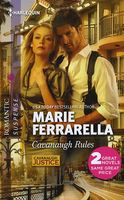 Series: Cavanaugh Justice (Book 22)
"Meet your new partner."
On the heels of losing her fiancé, Kendra Cavelli doesn't want another partner, especially not one as sinfully handsome as Detective Matt Abilene. She has enough troubles with her family's latest secret, which calls her whole identity into question.
Is she a Cavelli or a Cavanaugh? But she can't ignore the man looking over her shoulder during a grizzly crime scene or how he makes her feel. As she and Matt work to solve a baffling homicide, Kendra learns the self-confessed loner is as commitment-wary as she. And these two wrongs make for a sizzling attraction that feels oh-so right.
Very good book. Kendra didn't really want a new partner, but she knew she had no choice. His good looks and charm were something she saw as a negative, especially with his reputation as a ladies' man. She was having enough trouble dealing with her fiance's suicide and her own identity crisis. Matt was having his own issues with Kendra's attitude. He couldn't figure out what her problem was with him, but he knew he was attracted to her. I liked the way that they were able to finally start to work with each other on the murder case, and the way that their methods complemented each other. Even more than the actual mystery involved, I enjoyed the Cavanaugh magic. I liked seeing Matt and his mom come to Andrew's house with Kendra, and the way that Kendra's dad and Matt's mom hit it off. I enjoyed the way that Matt and Kendra finally gave in to their feelings, and how they continued to get to know each other. I loved the last scene with Kendra's dad, and the follow on with Matt and Kendra in the car. I'm really looking forward to more of the Cavanaugh books.