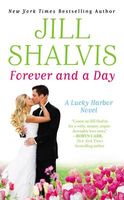 Series: Lucky Harbor (Book 6)
LOVE CAN HAPPEN IN A HEARTBEAT
Grace never thought she'd be starting her life over from scratch. Losing everything has landed her in Lucky Harbor, working as a dog walker for overwhelmed ER doctor Josh Scott. But the day his nanny fails to show up, Grace goes from caring for Josh's lovable mutt to caring for his rambunctious son. Soon Grace is playing house with the sexy single dad . . .
With so many people depending on him, Josh has no time for anything outside of his clinic and family-until Grace arrives in town. Now this brainy blonde is turning his life inside out and giving a whole new meaning to the phrase "good bedside manner." Josh and Grace don't know if what they have can last. But in a town like Lucky Harbor, a lifetime of love starts with just one day . . .
Very good book. I loved Grace. She was in Lucky Harbor while she tried to get a job back in the banking industry. That is the career she had trained for and that her parents expected her to continue. While in Lucky Harbor she had made good friends and started to feel at home. When one of her temp jobs is to work for Josh as a dog walker, she finds that she is attracted to him. She also quickly ends up doing more than dog walking, Josh ended up needing her to watch his son also. I loved the way that she took to caring for Toby, even though she hadn't really been around kids before. She also deals well with Josh's sister, not letting her get away with attitude just because of her handicap. She is a really spunky person and has no problem standing up for herself. Josh is a terrific guy, but really overwhelmed. He has his medical practice, his work at the hospital, he's a single father and taking care of his disabled sister. He is a caretaker, watching over and taking care of everyone. Grace sees how it is and finds that she wants to take care of him. Neither one of them wants to get involved, but a relationship sneaks ups on them. I loved the way that they give in to their passions and get interrupted, but it doesn't slow down their attraction. Grace is still applying for banking jobs out of town, but she has more and more people from town asking her to do their bookkeeping, which she finds she is really enjoying. I really enjoyed the way that Ty and Matt kept after Josh about getting balance in his life, and pointing out the way he feels about Grace when he didn't want to admit it. I also loved the way that Mallory and Amy helped Grace to see what she needed to do. It was terrific when Josh finally realized just what Grace meant to him. I loved the scene at the jail when a bunch of the townspeople showed up and Sawyer had to bring order.