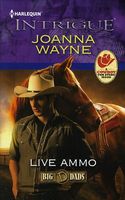 Series: Big D Dads (Book 2)
A DESPERATE MOTHER...
Alexis Beranger never could have anticipated the shock of being carjacked with her son still in the backseat. Or that Tague Lambert, part of the rich and famous Lamberts of Dallas, would be there to help. But most earthshattering of all was learning that the attack wasn't random -- only a prelude to the danger stalking her every move.
...AND THE COWBOY WHO CAME TO HER RESCUE
While their chance meeting occurred under the gravest of circumstances, Tague felt an instant attraction with Alexis that he just couldn't shake. Through with playing it safe, Tague vowed to protect this beautiful stranger and her vulnerable little boy, no matter how high the stakes. After all, a cowboy never ignored an innocent in distress -- especially a cowboy who carried the Lambert name.
Very good book that started with a heart-stopping chase. When her car was stolen with her son still inside, she convinced Tague to follow the car so it wouldn't get away. When talking to the police about the theft, Tague realized that Alexis was hiding something. He talked her into coming home to his ranch with him so he could protect her, though she tried to talk him into just letting them run. The more things came out about Alexis and her problems, the more Tague wondered if he should trust her. But his instincts said she was innocent of the accusations against her, and he was determined to help her. I really liked both Tague and Alexis. Alexis was determined to do whatever she needed to in order to protect her son. She didn't want to get Tague caught in her problems and risk his life or his freedom, but she was very glad he was on her side. She was also very attracted to him, but didn't want to give in to it until her problems were cleared up. Tague was a wonderfully honorable cowboy who was determined to help Alexis despite his misgivings. His head said to be wary, but his heart was sure she was innocent. I really liked the way that he put so much into helping her. The conclusion was tense, but ended well. I also liked seeing Damien and Emma from the first book, and the way they came running to help.