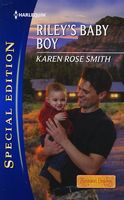 Series: Reunion Brides (Book 4)
FAMILY FEUD-OR FAIRY-TALE ENDING?
After one torrid night at their high school reunion, Riley O'Rourke thought his torch for Brenna McDougall had finally been extinguished. But after she appeared on his doorstep-with his infant son, no less!-it was clear that the flames of passion sizzled hotter than ever.
Brenna knew that Riley was all wrong for her. But one encounter with her secret love plunged her back into his life for keeps. She hadn't bargained on their long-muffled chemistry being as explosive as ever. Or that the old feud still simmering between his family and hers could threaten their new family...and their rekindled romance!
Very good book. When Brenna arrived on Riley's doorstep with their son, he was stunned. As soon as he held Derek, he couldn't imagine anything else. Brenna was amazed at how quickly Riley took to fatherhood. They had much more to decide on than just how to be parents. When they were in high school they had kept their relationship secret because their families were feuding. Now, Brenna and Derek are staying with him as they work out getting to know each other and Riley getting to know Derek. They also have trust issues to work out because of their families' problems. It seems like every time things start to go well for them, something happens to mess things up again. I really liked the way that Riley took to fatherhood. He was great with the baby. I also liked the realism of when he took care of Derek all day by himself and how the problems he had made him appreciate Brenna and what she did. The way that Riley and Brenna finally started to actually talk to each other was just what they needed. I also liked the way that they laid down the law to their fathers.