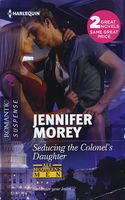 Series: All McQueen's Men (Book 6)
Passion in paradise
Raeleen Randall dumps her boyfriend after discovering he's married. Then she's kidnapped and taken to a remote lighthouse on the island of Anguilla. With a hurricane fast approaching, Raeleen needs a miracle to save her. And that miracle shows up in the strapping form of Travis Todd -- the irresistibly handsome stranger who rescues her.
When operative Travis Todd first sees Raeleen, he wants her. But getting involved with a powerful colonel's daughter is bad news. With someone out to harm her, he can't walk away. In this tropical paradise with its sultry nights, it's nearly impossible to ignore his desire.
Very good book. Raeleen had come to Anguilla to see her boyfriend when she discovered he was married. From there she was kidnapped and confined to a deserted lighthouse. When Travis showed up to rescue her, she was glad to get out of there, and very attracted to him. But he is one of her father's men and the type she stays far away from. What they need to do is find out why she was kidnapped and who is still trying to harm her. Travis is also very attracted to her, but he has no intention of getting mixed up with his boss's daughter. I liked both Raeleen and Travis, but they both had some serious issues to get through. Raeleen resented the amount of time that her father had spent away from the family, feeling that he always put his job first and neglected them. This caused her to have a prejudice against getting involved with military guys. The problem is that her attraction to Travis keeps making her forget her rules. Travis has his own issues to deal with. He is the unit's best at extraction, having never failed a mission. He is super protective and constantly trying to tell Raeleen what to do. She refuses to be dictated to, and tries to find out what has made Travis the way he is. I found it interesting that each could see what the other's problem was, but couldn't/wouldn't admit to their own. The final showdown with the bad guy was good, and the ending with Raeleen and Travis was fun.