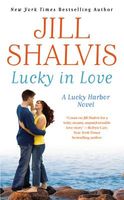 Series: Lucky Harbor (Book 4)
Mallory Quinn has had enough of playing it safe. As a nurse and devoted daughter, she takes care of everyone but herself. And as the local good girl, she's expected to date Mr. Right. But for once, she'd like to take a risk on Mr. Wrong. And who could be more wrong than Ty Garrison? The mysterious new guy in town has made it clear that he's only passing through, which suits Mallory just fine. Besides, his lean, hard body and sexy smile will give her plenty to remember once he's gone . . .
For the first time in his life, Ty can't bear to leave. Helping this sexy seductress-in-training walk on the wild side is making him desire things he shouldn't - including leaving the military for good. As their just-for-fun fling becomes something more, Mallory and Ty wonder if they could really be this lucky in love. After all . . . anything can happen in a town called Lucky Harbor.
Fantastic book. I loved both Mallory and Ty. They met during a storm that damaged the cafe, when he was injured. He ended up committing to take Mallory to the hospital auction, though he didn't remember doing that until he was told about it. I loved the immediate attraction between them, and the way that Mallory decided it was time to step outside her comfort zone. She is a person who is a caretaker. She is a great nurse, she watches over her elderly neighbors, and she is the force behind a new health services center. But she is tired of being the "good girl". Ty has been in town for awhile, but hasn't interacted with very many people. He is healing from an injury before he is allowed to go back to work for a private security company. He has kept himself apart because of his guilty feelings over being the only survivor of his SEAL team, and feels he isn't good for anyone to be around. Ty finds that he can't stay away from Mallory. They had decided to go for a no regrets fling for as long as he stays around. Then he is cleared to go back to work, but keeps finding reasons to stay. When drugs are stolen from the center, Mallory's job is on the line. I loved the scene in the diner when people keep claiming that they took them to save Mallory's job. It showed just how much people like Mallory. I thought the way that Ty stepped in to help after the fire showed that he was starting to put down roots and make connections, even if he didn't think so. I loved the way he did one more mission and realized what he really wanted to do was go home to Lucky Harbor. I thought the final scene in the diner was fantastic, especially since their story started at the diner. I loved the way that the townspeople were their usual interfering selves, and seeing some of the regulars and previous characters is always fun.