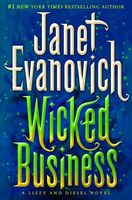 Series: Diesel (Book 2)
Lizzy Tucker's once normal life as a pastry chef in Salem, Massachusetts, turns upside down as she battles both sinister forces and an inconvenient attraction to her unnaturally talented but off-limits partner, Diesel.
When Harvard University English professor and dyed-in-the-wool romantic Gilbert Reedy is mysteriously murdered and thrown off his fourth-floor balcony, Lizzy and Diesel take up his twenty-year quest for the Luxuria Stone, an ancient relic believed by some to be infused with the power of lust. Following clues contained in a cryptic nineteenth-century book of sonnets, Lizzy and Diesel tear through Boston catacombs, government buildings, and multimillion-dollar residences. On their way they'll leave behind a trail of robbed graves, public disturbances, and general mayhem.
Diesel's black sheep cousin, Gerwulf Grimoire, also wants the Stone. His motives are far from pure, and what he plans on doing with the treasure, no one knows . . . but Lizzy Tucker fears she's in his crosshairs. Never far and always watching, Grimoire has a growing, vested interest in the cupcake-baker-turned-finder-of-lost-things. As does another dangerous and dark opponent in the hunt - a devotee of lawlessness and chaos, known only as Anarchy.
Treasures will be sought, and the power of lust will be unmistakable as Lizzy and Diesel attempt to stay ahead of Anarchy, Grimoire, and his medieval minion, Hatchet, in this ancient game of twisted riddles and high-stakes hide-and-seek.
Fun book. It's time for Lizzy and Diesel to go after the next stone that's connected to the seven deadly sins. The first book was gluttony, this one is lust. It starts with the murder of a man who had been searching for it. Now Lizzy and Diesel are searching, with Wulf and Hatchet doing their best to get to it first. There is also a new player, a woman named Anarchy, who is definitely on the wrong side of crazy. There were lots of fun moments in the search, especially when Carl the monkey got involved. I also enjoyed seeing more of Glo, and how her attempts at magic spells have a tendency to go wrong. There were some great moments between Lizzy and Diesel as they acknowledge their attraction but know that they can't do anything with it without risking losing their special abilities. I loved Diesel and his attempts to seduce Lizzy, and the way she would shoot him down. I enjoyed following them as they researched and followed the clues. I am enjoying the series, and seeing the parallels with Stephanie Plum. Lizzy=Stephanie, Diesel=Morelli, Wulf=Ranger, Glo=Lula, Clara=Connie.