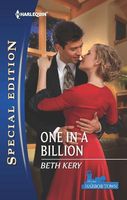 Series: Home to Harbor Town (Book 4)
FROM PRODIGAL DAUGHTER-TO BILLIONAIRE HEIRESS?
The discovery that corporate mogul Lincoln DuBois had left her half his company rocked Deidre Kavanaugh's world. After all, she'd only just learned that the billionaire could be her real father. And with his right-hand man, Nick Malone, up in arms, claiming her share of the inheritance wouldn't be easy.
Charismatic tycoon Nick Malone had his doubts about Deidre's paternity claim, but it was hard to remain aloof when all he wanted to do was kiss her! Nick couldn't seem to stop wanting to protect the rebellious beauty-or silence the desire to make her his own. And if her claim was true, Nick could lose half his inheritance. So why was he focusing on what he could gain...a lifetime of love with the woman of his dreams?
Very good book. Deidre was still trying to get used to the idea that Lincoln DuBois was her father, now she found out that she has been left half of his company. From the beginning Nick has been suspicious of her claim. He comes to Harbor Town to get to know Deidre and decide for himself if she was really Lincoln's daughter. She doesn't trust him at first, but as they spend some time together they both learn more about the other. Nick learns that Deidre is exactly the person she says she is. Deidre gets to know Nick as a person and realizes that he feels a great responsibility to the company and all its employees. They also discover an intense attraction to each other, and finally decide that they can act on it while keeping the whole paternity and business problems separate. I really loved the way that they were able to get to know each other and discover how much they had in common. Nick was also able to talk to her about what the company means to him. He was also able to help her reconcile with her mother. I could see early on that Kellermann was going to be a problem, so his activities were no surprise. I really loved the events of Christmas Eve. I'm looking forward to the next book in the series.