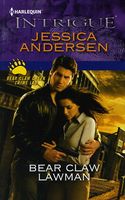 Series: Bear Claw Creek Crime Lab (Book 9)
SHE COULD REMEMBER ALL BUT FOUR MINUTES OF HER LIFE. HE PROMISED TO MAKE UP FOR LOST TIME.
When DEA agent Nick Lang came to town, even the toughest cases got closed. But his latest had become way too personal. He'd thought CSI Jennifer Prynne was just another no-strings fling, until a serial killer's attack left her battered, bruised and struggling to remember her past. Now, as the key to the entire case they'd been investigating for months, Jenn's safety became Nick's responsibility. He knew the murderer's identity was buried deep in Jenn's mind, but releasing it was dangerous -- yet necessary. The old Nick was an expert at getting answers and moving on. But his heart told him this was one case he couldn't walk away from.…
Very good book. Jenn and Nick were attracted to each other from the beginning. Nick was only expected to be there for a couple weeks, so they decided to indulge in a short fling while he was there. It rapidly became more serious than he was comfortable with, so when his stay was extended he broke things off. Because of his work, he felt he was doing it for her. Jenn had come to Bear Claw Creek after losing her cop husband when he was killed on duty. Then it came out that he was a dirty cop which threw her work as a crime lab tech into question. When Jenn was attacked by the unknown boss of local drug scene, Nick ended up taking over as her protection. Once again they gave in to their attraction, claiming that this time they knew what they were getting into. Nick had spent his career doing undercover work, and was very good at playing roles. This fed into Jenn's trust issues, since her husband had also played roles. During the time they spent together they actually started getting to know each other rather than just giving in to the physical. When Jenn decided to offer herself up as bait, Nick was furious with her. When the bait was taken and Nick realized how close he had come to losing her, he finally realized just how much he loved her. I loved the way they worked out their job situations.