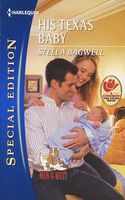 Series: Men of the West (Book 23)
West Texas horse trainer Kitty Cartwright didn't expect a romantic proposal…especially from the New Mexico rancher who was her business rival. She didn't expect a proposal at all! But Kitty was having Liam Donovan's baby. And now the daddy-to-be was insisting they make it legal.
No child of Liam's was going to be born without him around. The surprise was how quickly Kitty said "I do"—for the sake of the baby, of course. But with passion reigniting, this marriage of convenience was starting to feel an awful lot like the real thing. Was Liam ready to risk his heart? Because Kitty wasn't settling for anything less.
Excellent book with lots of emotion. Kitty has been in love with Liam for years, but he never gave her a second look. Liam had been married before and lost his wife and child in a car accident. He swore he would never love again and risk the pain of losing again. One night they had dinner together and ended up sleeping together. They decided to not risk their friendship by doing it again. Then Kitty ended up pregnant and Liam insisted on them being married for the sake of the baby. Kitty said yes quickly, hoping that Liam would come to love her. Liam knew he was developing feelings for Kitty which scared him, so he kept denying them to himself. Kitty was also fighting for her horse ranch, which she may lose because of a requirement in her father's will. She never told Liam about it, and that lack of communication caused a big fight between the two of them. I could see how the lack of communication was causing stress between the two. When Kitty confessed her love to Liam it also caused stress because he wouldn't admit to returning her love. When Liam's brother finally pointed out the obvious to Liam, he was stunned by his own idiocy. I loved the way that he made things right. The ending was very satisfying.