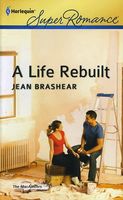 Series: MacAllisters (Book 3)
Special Forces veteran Roman Gallardo is a ghost. With the nightmares of his past weighing him down, the best thing he can do is keep to himself. So when a heroic act forces him out of solitude, he's not expecting a connection to a woman as vibrant and alive as Jenna MacAllister. Or as determined to help other people, no matter how hopeless, no matter the cost to herself.
He can't explain it, but he's drawn to Jenna and the rebuilding project she's started. And the more he works with her, the more he wants to leave his past behind and act on the intense attraction between them. The temptation is so strong, this could be his second chance at life...at love.
Excellent book. Roman is living in his grandmother's house, doing some repairs on it, basically hiding out. He is haunted by the things he saw during the war, and avoids people because of his flashbacks. He rescues Jenna one night when she confronts someone who is stealing from one of her construction sites. He starts volunteering at that site to keep an eye on Jenna and also to try to help a homeless fifteen year old boy. He doesn't understand why he is drawn to Jenna enough to pull him out of his self imposed exile. Jenna is the eternal optimist. She always sees the best in people and is usually able to get them to use that best to help her projects. When she is rescued by Roman, and again when he starts working with her, she feels an intense attraction to him. She can also see that he is troubled and wants to help him. She gets advice from her brother who had also been military. As they work together to help the boy, their feelings for each other deepen, but Roman still insists he's no good for her. When Jenna is attacked again and Roman rescues her, he is the only one who is able to help her deal with the memory of what happened. I really liked both characters. Roman thinks he is a hazard to other people, but he is a protector under it all and that is the main quality that comes through. His memories of his last tour are heartbreaking, but it still shows what a deeply caring man he is. I liked Jenna too. She is a smart, independent and capable woman. She tends to take a few more risks than she should, but that is a reaction to the overprotectiveness of the men in her family. I loved the way that she insists on helping Freddie and how she gets Roman to help her. I also liked the way that she refused to give up on Roman.