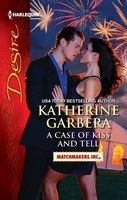 Series: Matchmakers Inc (Book 2)
Billionaire bachelor Conner Macafee knows just what he's worth, and he's ready to make a deal. Nosy reporter Nichole Reynolds wants him—owner of New York's high-end matchmaking service—to spill his guts for her story? He'll tell all—when she's in his bed.
Nichole needs this scoop. But Conner is so arrogant, so cocky…and oh-so-sexy. Surely she can handle a month in the hot bachelor's arms in a cool penthouse suite—for her career. But one kiss from Conner and Nichole knows she's made a huge mistake. Now she wants both the story and the man.
Good book. Nichole really wanted an interview with Conner, but he never gives interviews. She crashed his family's Fourth of July party to meet him. They immediately felt an intense attraction to each other. Conner told Nichole he would do an interview if she became his mistress for a month. She didn't really want to, as she felt it would negate the hard work she put into her career. She finally decided she would, mainly because she was so drawn to him; the interview would be a bonus. Conner really wanted her in his bed, but planned to keep her so distracted that she would forget about asking her questions. Thanks to his scandalous father and a bad experience with a reporter, Conner never talks about his past, and refuses to let his emotions take over. Nichole is also cautious - she plans to devote herself to her career for several more years before looking for a husband. As they spent time together, Nichole saw more of the man under Conner's surface and the more she liked him. He also liked her, but her ability to see through him scared him. When she asked him to give them a chance, he refused and she walked out. I liked the fact that she stood up for what she believed and wouldn't settle for less than what she deserved. When he finally saw the light he did it in a big way. I also liked seeing Gail from the first book in the series, and there was an appearance of Cam and Becca from the Miami Nights series.