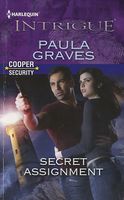 Series: Cooper Security (Book 4)
His business is protection
Shannon Cooper came to Nightshade Island to carry out a mission. But she can't do it without the mysterious Gideon Stone. The enigmatic, battle-hardened former Marine is much more than just the island's caretaker. And the powerful feelings he's awakening go deeper than fleeting desire.
Former special ops, Gideon has seen danger up close and personal. Now, protecting Shannon from deadly mercenaries is his first priority. But who will shield him from the onslaught of emotion the beautiful computer tech is arousing? As a storm hurtles up the Alabama Gulf Coast, mirroring the passion raging through his defenses, Gideon will do whatever it takes to survive...and explore a relationship as impossible as it is irresistible....
Very good book. Shannon had been sent to Nightshade Island to archive the late general's papers. She was immediately drawn in to helping foil an attack on the island by people looking for something the general had. Gideon had been asked by the general to protect his wife, and was serving as caretaker on the island. He didn't want Shannon there as he thought she was just someone else for him to have to protect. When it became obvious that she was an asset, they started to actually cooperate with each other and made some progress. I loved the part in the diner when she was able to get a lot of information in a short time, and how impressed Gideon was with her. Gideon and Shannon were also attracted to each other. Gideon felt that he couldn't give in to it because he was afraid he was like his father, who abused and killed Gideon's mother. Shannon was attracted to Gideon, but hesitated to do anything about it because she didn't want it distracting her from her first opportunity to work in the field. I loved the way that Shannon brought out the best in Gideon and showed him that he was nothing like his father. I also loved the way that Gideon showed Shannon that he had confidence in her abilities. That confidence came through in the final showdown when he trusted her to do what needed to be done. I'm looking forward to the next two books and the resolution of the mystery - and seeing Jesse find his own destiny.
My only complaint isn't with the story but with the editors at Harlequin, who can't seem to get it through their heads that Marine is ALWAYS capitalized...