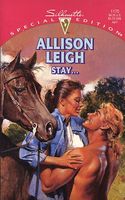 Series: Men of the Double C Ranch (Book 1)
WELCOME HOME, STRANGER
After ten long years Jefferson Clay was back. But now he was a different man. Leaner. Mysterious. Pained. Something else had changed, too. The pint-sized tomboy who'd tagged along after him at his family's ranch had matured into a beautiful woman . . .
Emily Nichols had been hopelessly in love with Jefferson ever since she could remember. And now this gorgeous, enigmatic man was sending her heart further into a tailspin, awakening her woman's passion as no other man could. But would Emily's love be enough to bring Jefferson's deepest, darkest secrets into the light and convince her wounded hero to stay . . . with her . . . forever?
Very good book, very emotional. Jefferson is back, but still just as emotionally distant to Emily as he's ever been. She has been in love with him for as long as she could remember, and those feelings haven't diminished at all. She can tell he feels something for her too, but he keeps pulling away. They return to his family's ranch when his father has a heart attack, and they are thrown together even more. Emily can see that something has put a world of pain in his eyes, and she keeps trying to help him. Jefferson has loved Emily for years, but he feels that he is not good enough for her. He has done things in the course of his work that he is sure would disgust her, and he doesn't want to hurt her. I loved the way that Emily tried so hard to be there for Jefferson, and refused to give up on him. It took a lot of persistence and stubbornness on her part before he would start to open up to her. I cried a lot in this book because I could see the pain they were both going through. I loved some of the things Jefferson's brothers did to try to help and the scene in the kitchen when she told off the guys was great. I will definitely have to read more of the early books in the series.