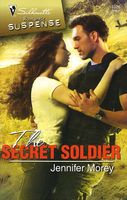 Series: All McQueen's Men (Book 1)
He won her heart -- and she didn't even know his name
The powerful stranger broke down the door and saved Sabine O'Clery from the terrorists holding her hostage. But her secretive hero was forbidden from revealing his identity. Until enemy fire forced them to crash-land....
Of all the covert military missions, being stranded on a Greek island with a beautiful woman is one that Cullen McQueen never imagined. But their stay in paradise was all too fleeting. He had to take Sabine back to America, or risk blowing his cover and losing everything he'd fought for. Yet memories of one passion-filled night haunted him... and when danger followed Sabine home, the stealth soldier knew he would break all the rules to keep her safe forever.
Very good book. Sabine and her fellow worker had been kidnapped by terrorists. He had been killed and she knew she would be next. When the stranger rescued her she was happy to be out of there. Then they had to crash land on a Greek island and were stuck there until they could get away. Sabine wanted to know more about him, and he couldn't tell her anything without risking his life and his work. But when the danger to her continued, he risked it all to protect her. I liked both Sabine and Cullen. Sabine had some big issues with her father. He runs a security company and in the early days was never there for her and her mother. This caused her to distrust men in that line of business, especially because of all the secrets they keep. It also caused her to have no interaction with her father, who she thought of as a conscienceless mercenary. When Cullen wouldn't tell her anything about himself, what he did, who hired him, etc, she thought he was just like that. But she was still incredibly attracted to him. Cullen owed her father his life, and went to rescue her because of it. He didn't expect to be so attracted to her that he sometimes lost the focus of what he was doing. He knew that he had to be careful because his company ran many undercover operations that could not be exposed. When she was attacked again, he didn't hesitate to step in to protect her and risk it all. I really liked the way that he was willing to risk it all to protect Sabine. I could also see that he was running scared of all the emotions she was bringing out in him, and he didn't know what to do about it. I loved the scene with Odie at the end, and how she forced his hand. The final part with Cullen and Sabine was fun. I really enjoyed seeing the beginning of the series and how it all came to be. I definitely need to read the others I have missed.