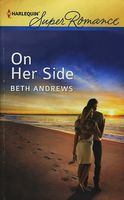 Series: The Truth About the Sullivans (Book 2)
Attorney Nora Sullivan wants her mother's killer behind bars. To do that, she needs the help of the primary suspect's son—Griffin York. Too bad Griffin seems determined to avoid all involvement. Fortunately, Nora knows something about persuasion and sets out to convince him he's needed. It's not easy getting past his rebel facade, yet she sees glimpses of the considerate—and sexy—side he hides. Her efforts to sway him have an unexpected effect when every glimpse of the inner Griffin makes her want him more!
Regardless of the simmering attraction, what can the future hold for them? Their differences go beyond the murder case between them. Yet when Nora needs Griffin the most, he proves he just might be on her side.
Very good book. When Nora went to Griffin to ask for his help tracking down his father, she couldn't believe he turned her down. She was used to being able to talk almost anyone into doing what she wanted, and she wanted Dale to pay for killing her mother. Griffin wants nothing to do with Nora and her quest. He has spent most of his life trying to live down being his father's son. He's a respectable business owner and is very careful to keep his life private. But Nora keeps trying, especially because she can see he is nothing like his father. And she is very attracted to him. Then Dale comes back to town, supposedly to cooperate with the investigation. He also tries to intimidate Nora, and then makes the mistake of making suggestive remarks to her - in Griffin's presence. After the police are called to break up the fight, Nora takes care of Griffin and they start to spend some time together. Nora knows she is in danger of falling for Griffin, but it doesn't stop her. Griffin is also starting to have feelings for Nora and it scares him to death. He keeps trying to push her away, feeling he isn't good enough for her, but she doesn't want to go. He is still dealing with his feelings of guilt from not being able to protect his mother and himself from his father's abuse, and also his anger at his mother for not leaving him earlier. Their resolution was very emotional. When Dale tries to use Nora in a blackmail scheme, she goes to Griffin for help. The ending was a surprise, and I'm looking forward to the third book to see if there is a resolution to the mystery. I also enjoyed the side story of Jess (the Chief's niece from the first book) and Griffin's brother Tanner.