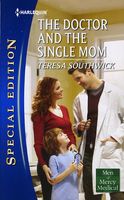 Series: Men of Mercy Medical (Book 9)
DOCTOR IN THE HOUSE!
Why had she rented her upstairs apartment to another doctor? Single mom Jill Beck knew the type, especially one as handsome as Adam Stone. The M.D. would stick it out in Blackwater Lake, Montana… until the first snowstorm. And then he'd leave everyone behind. But this time she wasn't getting involved.
Yes, he thought Jill was one fine-looking landlady, but Adam knew romancing the town sweetheart wouldn't win him any points. Still, they could be friends and he could be the male influence her young son needed -- no romantic strings involved. Well, perhaps he needed to check his temperature and be certain he hadn't misdiagnosed true love as just a simple case of friendship!
Very good book. I really liked Adam when I saw him in earlier books. I like the way that he wants to be a family practice doctor so he can get to know his patients and be part of the community. He has not bowed to pressure from his highly successful family members who think he's wasting his abilities up there in Montana. Jill has been burned twice. First the man who is the father of her son took off, and then she got involved with the previous doctor. He stuck around for awhile, but soon decided that small town life wasn't for him. So when Adam came to town, she didn't trust him. She didn't want to get to know him and share her son with him and then have him take off, leaving them both hurting. The people of the town were also very cool toward Adam, thinking he might be the same way. Adam wasn't looking for a relationship either. He had been burned himself, by a wife who wanted a high profile doctor, not a family doctor. They were both attracted to each other, but didn't want to take a chance on screwing things up. Adam also found himself having a great time hanging out with Jill's son CJ. The kid is enjoying having a guy to hang out with and Adam finds that they both are filling a void in his life. I loved the way that the people of the town were so protective of Jill, but also that they did begin to trust Adam pretty quickly. I could see the hurt that had affected Jill and loved the way that she put protecting CJ first. I did like the way that she and Adam found themselves growing closer. I really enjoyed Adam's arrival at CJ's birthday party.