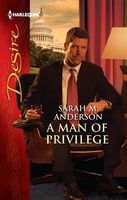 Series: Lawyers in Love (Book 2)
She Isn't What He Expected
Blue-blooded lawyer James Carlson is working on the case of his life. After winning this trial, his career will be set. He won't let anything...or anyone...alter his course. Then he meets his witness.
Maggie Eagle Heart makes him question everything-his family, his goals, his future. Because she's the one woman he wants, and she's the one woman who is completely off-limits. Yet even as he struggles to keep their relationship all about business, he can't deny the attraction is mutual-and irresistible.James has always done what is expected of him...until now.
Good book. James goes to Maggie to get her testimony to help bring down a corrupt judge. If he wins this case he will be on his planned road to political office, and he won't let anything get in his way. Maggie is a former drug addicted prostitute, but she has turned her life around. She refuses to let herself be intimidated. When he tries to bluff her into helping him, she calls him on it and walks out. She surprises him, and he feels an intense attraction to her also. He also knows he can't do anything with it because it could ruin his case. He goes back to Maggie, apologizes, and appeals to her for her help. I loved Maggie and her strength of character. Even when she was scared she was able to stand up for herself. I loved her attitude at the cocktail party in DC. James was a little harder to warm up to. At first he seemed to be all about himself and what he needed to advance his position. It was obvious from the beginning, though, that he did have the strength of character to avoid corruption and to want to do the right thing. He was intent of trying to protect Maggie and not have to use her testimony if he could avoid it. I loved seeing him grow and change in this book, and get a better idea of what it was he wanted, not just what was expected of him. I loved the scene with him and his parents and how he finally stood up to them. The conclusion was fantastic. I hope to see more of them in the next book. I'd also like to see Tom Yellow Bird get his own story.