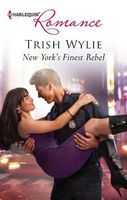 Isn't it every girl's fantasy to have one of NYPD's finest living next door? I love a man in uniform!
Unless, of course, he's Daniel Brannigan -- older brother of my best friend, with an ego the size of Texas and a reckless streak a mile wide. To say we bring out the worst in each other is an understatement! Especially now that we know each other's secrets….
So this is one fantasy I'm refusing to indulge in. But did I mention he used to be a Marine? Apparently they like a challenge….
Good book. Daniel moved in next door to Jo, not knowing that she was there. Jo didn't expect Daniel to be moving in there either. They have struck sparks off each other from the beginning, with snarky comments the norm whenever they are together. There's something different this time - the sparks are accompanied by some heat. Daniel is back home after his time in the Marines, and is happy to be back doing what he loves. However, he brought nightmares back with him and he doesn't intend to share those with anyone. But Jo can hear his shouts through the walls. Jo has her own secret - she spends a fair amount of time taking care of her alcoholic father. Daniels finds out about those visits and refuses to let her go to that neighborhood alone. As they spend time together the snarkiness is still there, but it is gentler and more teasing. The attraction between them increases also. I really liked the way that Daniel was so protective of Jo, even though she was so independent. It caused some problems for them, but I loved the way that Jo came to terms with it. I also really liked the way that Jo worried about Daniel and how he was dealing with his nightmares. I loved Liz's interference at the end. Oh yes - and thank you to the editor of this one for realizing that Marine is always capitalized.