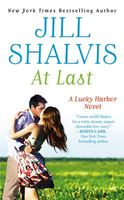 Series: Lucky Harbor (Book 5)
HER LOVE HAS COME ALONG . . .
Amy Michaels loves her new life in Lucky Harbor. A waitress in the local diner, she's looking forward to her first weekend hike through the mountains. But when a wrong turn takes her off the trail, she finds herself up close and personal with forest ranger Matt Bowers. And even though she's tempted to kiss that sexy smile right off his face, she won't make the mistake of getting involved with the town heartthrob.
A former cop whose life went south, Matt doesn't let anyone get too close. But something about the feisty beauty caught his eye the moment he first saw her in the diner. After a hot night under a starry sky, Matt can't deny their attraction-or the fact that for the first time in a long time, he feels the stirrings of something more. Now it's up to Matt to help Amy see that, no matter what is in their past, together they can build a future in Lucky Harbor.
Very good book. Amy is a waitress in the local diner. She came to Lucky Harbor because her grandmother had visited when she was young and had told Amy wonderful stories of her time there. She has her grandmother's journal and is planning to follow in her footsteps, looking for the same peace that her grandmother had found. Unfortunately, she is not an outdoors type of person and gets lost on her first attempt. A call to her friend Mallory gets forest ranger Matt coming to her rescue. She had noticed Matt when he came into the diner, but she has no intention of getting involved with any guy, especially one as good looking as Matt. Meanwhile, Matt had also noticed Amy and would like to get to know her better, but Amy doesn't allow anyone to get that close. Amy doesn't want to need rescuing, but she knows she has to accept the help. When they end up spending the night in the woods, the attraction becomes even more of an issue. Matt and Amy end up spending more time together as she follows her grandmother's journal entries. They also find a teenage girl living in the woods, who Amy tries to befriend and help. She recognizes what Riley is going through, having been there herself. Amy and Matt decide to follow the attraction and have some fun together, but make no commitments for the future. Matt knows he likes Amy, and they are certainly combustible when they get together. But he doesn't let anyone get too close, as things always seem to go wrong when he does. Amy has trust issues from her time on the streets, and it takes a long time for her to realize that she can trust him. Some things go wrong when she keeps a couple secrets trying to protect one person, while she angers Matt by not trusting him. I really liked the way that, although they had decided on "just sex" the more time they spent together, the more they actually liked each other. I loved seeing how Mallory and Grace work to help Amy get the life she deserves, and how Ty and Josh help Matt see what he needs to do. And yet again I love the people of Lucky Harbor and how they take care of their own.