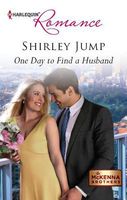 Series: McKenna Brothers (Book 1)
Ellie Winston is adopting her late friend's baby… But she hits a husband-sized hump: to adopt Jiao, Ellie has to be married! Where can a commitment-phobic female find a husband in a day? Then cutthroat billionaire Finn McKenna comes to Ellie with a business proposition, only he isn't prepared for Ellie's merger-with-a-twist…marriage!
Finn never lets anyone close, even someone as feisty and intriguing as Ellie. But saying "I do," even when you don't really, has a way of making even the most stubborn people wake up and realize what they've been missing….
Good book. Both Ellie and Finn have issues with relationships. Ellie needs a husband in order to adopt Jiao, and Finn needs to partner his company with Ellie's for a new project. Both of them are attracted, but each one tends to back away from the feelings for fear that they may not last. Finn also has a reputation of being ruthless in acquiring new businesses and Ellie is afraid that he might be using her. I really liked Finn when he was in nice guy mode, as he was a really romantic and fun guy. I also liked Ellie's determination to give Jiao a good home and to be the best mother she could be. Their fears of failure nearly stopped them from their happy ending.