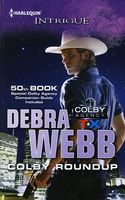 Series: Colby Agency: Texas (Book 3)
BODYGUARD AT HEART. COWBOY TO THE CORE.
Colby agent Russell St. James knew the exact moment Olivia Westfield discovered she was the daughter of the infamous "Princess Killer."
Ever since, being her bodyguard had become twice as hard. Each day, he shadowed her; each night, he held her through her tormenting nightmares. But was her father guilty? Her mother his accomplice? The answers lay deep in Olivia's memories, and the closer she got to the scene of the crime, the more she remembered. Russ had a job to do: safeguard Olivia and give her the future she deserved. Even if that future didn't include him.
Very good book and conclusion to the trilogy. Olivia was the oldest of the three girls, and as such was likely to remember more than the other two. Those memories seem to be buried very deep. Russ had been assigned by the Colby Agency to guard Olivia. He knew when she went to the prison to see her father, and when she started investigating what had really happened so many years ago. Her mother had been released from prison and was in the company of her half brother. Russ was trying to protect Olivia, and it was getting more difficult. The closer Olivia got to remembering things, the more things were happening. Her car exploded, her hotel room burned, people she talked to were attacked. As she and Russ spent more time together, their attraction grew stronger. She also came to appreciate his protectiveness, and he enjoyed her determination. When the final confrontation came, it was good to get the full story of what had happened. I also loved seeing the three sisters together, and with their men. I look forward to more Colby stories.