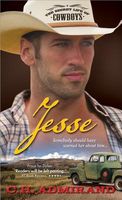 Series: Secret Life of Cowboys (Book 3)
Loneliness Will Take a Man Places...
Jesse Garahan has plenty of Irish charm, but having had his heart demolished twice, he's sworn off women forever. Until the fateful day he meets Danielle Brockway and her tiny daughter on their way to their new home in Pleasure, Texas.
But There May Be Places He Doesn't Want To Go...
Fiercely protective of her little girl, Danielle isn't about to let Jesse get anywhere close enough to hurt either of them, no matter how much longing she sees in his eyes...
Very good book. Jesse is the youngest of the Garahan brothers and wants what his brothers have - a loving relationship with a woman. But he's had his heart broken twice by the same woman, so has sworn off women for awhile. Then he meets Danielle and Lacy when he rescues them on the side of the road. He's immediately attracted to Danielle, and little Lacy steals his heart from the beginning. Danielle is on her way to Pleasure to stay with her uncle. Her ex-husband walked away from her and their daughter without a backward glance. She doesn't trust men, especially cowboys, and doesn't want to let Jesse anywhere near them. But he keeps coming around, and soon she is dreaming of what might be with Jesse. Jesse finds that the more time he spends with Danielle and Lacy, the more he sees them as a permanent part of his life. I loved Jesse and how good he was with Lacy. He was just the guy she needed in her life to take the place of her good for nothing father. I also loved his interactions with his brothers and their ladies, and the fun they all had. His teasing of his brothers was just so much fun. I also liked the way he was working that second job to make money for the ranch - his secrecy reminded me of Tyler's time at the club. Jesse's growing love for Danielle was something that filled a hole in his life that he hadn't realized was there until his brothers found their loves. I loved Danielle and how protective she was of Lacy and her feelings. I also liked the way she fit in on the ranch and with his brothers and Ronnie and Emily. I loved the ending with the appearances of Jesse's cousins. I hope that they get their own books too.