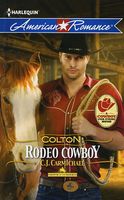 Series: Harts of the Rodeo (Book 2)
A Change of Hart
After years of tearing up the rodeo circuit -- and shirking his family duties -- Colton Hart shouldn't be surprised that his return to Thunder Ranch has been a bit thorny. His plan to put the Harts' prize stallion, Midnight, back into dangerous rodeo competition doesn't help.
Colt's stirring up trouble off the ranch as well, especially in Leah Stockton's heart. Recently divorced, Leah is determined to make a new life for her two kids. The last thing she needs is a man who acts like a child himself.
And Leah doesn't even know about the biggest mistake of Colt's life. When his shameful secret is revealed, she'll never look at him the same again. But Colt also realizes it's past time he acts like the man Leah deserves…whether she wants him or not.
Good book. Colt's arrival back at the ranch has created some stress. He has spent most of the last fourteen years competing in rodeos and not doing much to help out at the ranch. On his first night back he runs into Leah and feels an attraction to her that he didn't expect. He also didn't expect to find out that she's the mother of two, which scares him off. Leah is back home to start a new life for her and her kids. She also didn't expect her attraction to Colt, nor did she expect his rapid retreat. He did apologize for his attitude and then helped her get a job doing accounting for his family's ranch. This also gave him an excuse to spend time with her. Over the next few weeks they got to know each other again, and he got to know her children and become more comfortable with them. When he confessed his secret to her, she was stunned and disappointed in him. It was also a motivation for him to finally change his ways. I liked both Colt and Leah. He had been discontented for awhile and after he got home he finally figured out why. I really enjoyed seeing his growth and the way he finally took responsibility for his life. I liked Leah and the way she was determined to give her kids a more settled life. I liked the way she made sure they knew that she wasn't going back to their father without badmouthing him to them. She had a great positive effect on Colt that was just what he needed. I'm looking forward to the rest of the series.