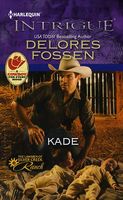 Series: Lawmen of Silver Creek Ranch (Book 4)
THE BABY IN THE HOSPITAL WAS KADE'S. THE MOTHER WAS STILL MISSING.
One look at the baby girl, and there was no question Kade Ryland was the father. For three months, Kade had posed as Bree Winston's husband at the Fulbright Fertility Clinic, while the two FBI agents investigated a trail of illegal adoptions and surrogates. Nine months later, a baby was dropped at his feet -- and Bree was nowhere to be found. Now Kade had to reopen a case that had gotten way too personal and find Bree -- fast. But if the two of them had never been a real couple, were they ready to be parents? Whatever the answer, Kade now had more than one reason to close this case once and for all.
Very good book. When Kade was called to the hospital and told that they had found a baby girl and the child was his, he was stunned. The age was right for her to be the result of the undercover operation, but he and his fellow operative had never made love. When Bree was definitely identified as the mother, he knew he had to find her quickly. When he did find her, she had been drugged and it took awhile for her to remember what had happened. In the meantime, they were still investigating the clinic and the people who had run it. People were trying to kill them and they needed to find out who and why. I loved seeing Kade with baby Leah. He hadn't expected to become a father yet, but Leah stole his heart the minute he saw her. There's nothing like seeing a big tough guy melt in the presence of a baby. He was so good with her. When Bree was brought to the ranch to recover and meet Leah, she was scared at first. She had never planned to have children because she had had a terrible childhood and knew nothing of how to love and raise a child. But like Kade, as soon as she saw Leah her maternal instincts kicked in and she knew she would do anything to keep her safe. She and Kade knew they would have to come to some kind of decision about how to raise her, but that would have to wait. They also had to deal with their attraction to each other, and decide if it was going to go anywhere. The action in this story was nonstop and keeping track of the twists and turns kept me guessing. There was a surprise twist at the end that made things more tense for awhile. I can't wait for the next two books.