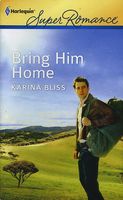 Claire Langford is ready to move on. She's grieved for her late husband, and now it's time she made a different life for herself and her kid. She's got a new business in the works that should accomplish that. Before the plan gets off the ground, however, she needs Nate Wyatt's help. First she has to track the man down, then drag him to New Zealand.
Too bad Nate is complicated times ten. Given how difficult it was to persuade him to make the trip, she's not prepared for his kindness, his support...his captivating attention. And she's definitely not prepared to fall for him! But it just might be too late to stop that from happening....
Excellent book. I really liked both Nate and Claire. When he came back from Afghanistan, Nate couldn't deal with Claire's husband's death, so he left for the US and took a job as a bodyguard for a rocker. He avoided all contact with his old friends, ignoring all attempts to contact him. When Claire needed him to sign some papers, she finally had enough and flew to LA to get him. After confronting him at a celebrity party, she shamed him into returning with him. He agreed on the condition that none of their friends is told he's there. He only plans to stay a few days, but decides to stay longer to help Claire set up her new business. Over those few days she realizes that he is still hurting over the loss of Steve and Lee, and wants to help him. Partway through the visit they begin to have feelings other than friendship for each other, but decide that it won't go anywhere. They still have some issues to deal with, but when they finally give in, both feel that they are finally able to start living again. The emotions in this book were incredible. Nate, Claire and their friends from previous books all have to deal with the fallout from the guys' time at war. Nate is having a very hard time dealing with his survivor's guilt and the memories of what he had to do. He has removed himself from all contact with his friends, but it hasn't helped. When he comes to Stingray Bay Claire realizes how badly he is hurting and tries to figure out how to help him. Nate doesn't want to tell her because he feels it will change how she feels about him. Claire is dealing with her own guilt because she is angry at Steve for dying, when he had promised that he wouldn't go back again. When the other guys show up, they work hard to show Nate that he doesn't need to feel guilty. There is still one piece of information he has to share with Claire that brings home to her the horrors he had to go through. Also included in the story are the effects of the war on Claire's son and Steve's mother. I really enjoyed this story and all the emotions.