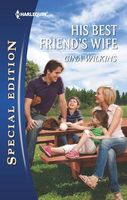 THE OTHER MAN IN HER LIFE...
He was her late husband's best friend, the man she'd been warned to avoid-the man she'd always found irresistible. Now he was back, unavoidable and attractive as ever.
Renae Sanchez, after years of grieving what was not to be, had finally put her life back together again. She had her adorable twins, her job, her friends. It was enough-it had to be. And then Evan Daugherty walked into her office and into her life once more...making her believe that when it came to love, once-in-a-lifetime might strike twice....
Good book. I liked Renae. She had made a good life for herself and her kids after her husband's death, even keeping a good relationship with her mother-in-law who lived with them. She was, however, stuck in a rut. She didn't really date, and her life revolved mostly around her family. When Evan came back into her life she wasn't quite sure what to do. He and his business partner, Tate, had set up a scholarship in her husband's name. They wanted her help in running the program, and asked her to meet with them to work on it. Renae's mother-in-law holds Evan responsible for Jason's death, and does everything she can to make Renae not want to be around Evan. But Renae has discovered that she is very attracted to him, as he is to her. They begin a relationship that she keeps secret from Lucy until Evan wants to be more involved with Renae's life. I really liked the way that they spent time together and got to know each other beyond their physical attraction. I also liked the way that Evan wanted to be more involved, and how good he was with the kids when they finally got together. I could see his frustration with Lucy's attitude and Renae's waffling. I really enjoyed seeing him at the kiddie arcade/pizza place and how well he survived it. I thought his handling of Lucy at the end was perfect.