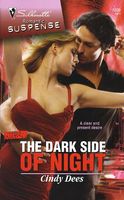 Series: HOT Watch (Book 1)
Don't mess with a man on a mission
Kinsey Hollingsworth's tropical-getaway plans didn't include dodging gunshots. Or a speedboat chase with Mitch Perovski, the tall and tempting spy who'd commandeered her boat. But the socialite would handle anything Mitch demanded--whether it meant going undercover or under the covers.
Mitch didn't work with partners. And although Kinsey proved she was more than a pampered heiress, she was no match for the assassin targeting them...or for Mitch's smoldering desire. He had to get through this one high-stakes task with her. But after a night in Kinsey's arms, could he walk away from their partnership for good?
Very good book. I really liked both Mitch and Kinsey. Mitch was definitely a loner. When he had to commandeer a boat, he wasn't expecting there to be someone on it, especially a beautiful socialite. I loved the way that Kinsey was able to step up and help Mitch by driving the boat like a pro. When Mitch then needed to get into Cuba, Kinsey was able to become part of the operation. This really bothered Mitch, because he was very attracted to her and didn't want to be. He felt that as an amateur she would be a hindrance and likely to get hurt or killed. Kinsey was also attracted to him and was determined to help him. I loved the fact that she had a good head on her shoulders and was able to adjust when circumstances required it. I loved the way they worked together, even as Mitch was trying to push her away. I enjoyed the number of times that Kinsey's quick thinking got them out of trouble. In the final showdown, it was fantastic the way that she was able to convince the leaders to let her try to rescue Mitch and the physical connection that she felt to him that let her figure out what was happening. I also loved the way she stood up to her father for the right to live her own life. I really enjoyed reading the first book in this series, since I came to it late.