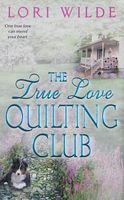 Series: Twilight T

exas

(Book 2)
"The pattern of a quilt will always lead you back home."
Trixie Lynn Parks changed her name to Emma, shook the dust of Twilight, Texas, off her shoes, and vowed to make it big in the city. But after twelve years of shattered dreams, she heads back to the ladies of the True Love Quilting Club . . . and to her first love, Sam Cheek.
Some things -- and some people -- sure have changed. Sam has grown from a carefree boy to a single dad. And even though the chemistry between them sizzles hotter than ever, Trixie Lynn quickly discovers she must choose between the fame and fortune that have finally come her way -- or the one true love who has the power to mend her patchwork heart.
I loved this second visit to Twilight Texas. Emma lived in Twilight for one year before her stepfather moved them away. She had a terrific friendship and beginnings of a romance with Sam. When she was 18 she moved to New York to become an actress. After 12 years and a major scandal she found herself back in Twilight. There she reconnected with Sam. I loved the characters in this book. Emma was fixated on her career and what she had to do to make it big. She knew she wouldn't be staying in Twilight, but enjoyed getting to know Sam again, and making friends with the quilting club and others. She loved spending time with him and his son, but was very nervous of the fact that she was falling for them both. I liked the way that she learned that she doesn't need fame to be happy. Sam is a steady, cautious kind of guy. He has decided that if he doesn't take risks, he won't get hurt. Spending time with Emma shows him that it is good to have some spontaneity in his life and take a few chances. They both learn to take a chance on true love. I love the fact that neither one is perfect and that they both grow as the book goes on. I loved the ladies of the quilting club and the humor they brought to the story.