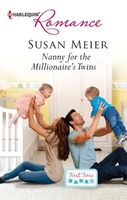 Series: First Time Dads (Book 2)
She can handle twin babies, but can she handle the boss?
As the new nanny for Chance Montgomery, Tory Bingham is looking after his adorable twins. But although she's taking diaper-changing and sleepless nights in her stride, nothing can prepare Tory for being around the twins' breathtakingly handsome daddy....
Five years ago, Tory's dreams were stolen from her in a horrific accident, but as she becomes a part of Chance's family she faces a heart-wrenching decision-dare she let go of the past and start to hope she can be happy again...?
Very good book with some really intense emotions. Chance has returned to Pine Ward after many years away because he needs help with his twin babies. Once he is there, he has to make peace with his brother and his mom. His mom has also hired a nanny for him to help with the children. At first, Chance is not happy with that, as he intends to be a hands-on father, not one who leaves the kids to others. But Tory convinces him that he can do both. Tory didn't initially want the job either, but she needs to work, and quickly found that she loved the children and being with them. She was also attracted to Chance, which made her feel very guilty. She has been engaged to a man for five years, but will never be able to marry him. They had been involved in an accident, and he has been in a coma, and she refuses to desert him. Her guilt over her happiness with Chance and the babies is tearing her apart. The ending is heartwrenching and heartwarming at the same time. I loved how Tory and Chance took their time to really get to know each other.