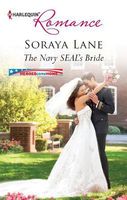 Series: Heroes Come Home (Book 4)
Ex-navy SEAL Tom Cartwright is struggling to return to civilian life. His little niece is his only ray of sunshine and he agrees to be the "show" in her school show-and-tell.
Teacher Caitlin Rose knows all about past disappointments—once, she danced in the spotlight but now she shows others how to. She's learned the hard way to rely only on herself. Yet as soon as Tom looks at her with those big brown eyes, she's done for….
Can Caitlin crack the walls around this soldier's battle-worn heart?
Very good book. Tom was injured in an explosion and lost the hearing in one ear. This brought an end to his career as an active SEAL. Now he is working as an instructor, training new recruits. He is having a hard time adjusting to the loss, as he felt that being a SEAL was what and who he was. His niece Gabby is about the only thing that cheers him up. When he visits her school, he meets her teacher and finds something else that makes him happy. Caitlin knows how he feels, since she lost her own dreams several years earlier. She is also very cautious around Tom, having been abused by her military father and military ex-boyfriend. She finds pretty quickly that she actually feels safe with him, but also knows that he needs to deal with his problems before they can go on. I liked Tom and how gentle he was with Gabby. It showed Caitlin that he was a man who could be trusted. I could also see how the loss of his SEAL status was eating at him, and how he wasn't allowing himself to move on. Gabby's strength of character and the way she was able to stand up to Tom and make him listen to her was great. I also liked the way she made him see that teaching was just as important as what he had done before. The conclusion was fun, when he took her on the tour of the training. I loved the reactions they got. This has been a terrific series, and I hope there will be more.