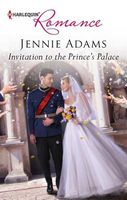 Mel Watson's just a normal girl until a cab ride turns into an invitation to a whole new life. It's not until she hears her cab driver being addressed as "Your Highness" that she realizes she's stumbled into a fairy tale.…
Prince Rikardo can't believe he's collected the wrong wannabe princess. Mel's far from the cynical social climber he planned for -- the tempting softness in her eyes makes him wary. For Rikardo's long given up on love: he wants a temporary wife…and proposing to this sweet, ordinary girl feels all too real.
Fun book. Mel thought the car she got into was a cab she had ordered. She was a little out of it due to some allergy medication she took, and by the time she woke up she was far from home. When Rik realized he had the wrong girl, it was too late to do anything about it. When he explained the problem to Mel, she agreed to help him out. Rik needs to marry in order to get his father, the king, to go along with some plans he has to improve things for his country. He had planned to enter into a temporary marriage with Mel's cousin. As Rik and Mel spent time together working on Rik's efforts to help his country, they began to develop feelings for each other. Rik had made the decision that he would never give in to love because of the mess his parents made of their lives. He didn't want to go through that. But the more time he spent with Mel, the more he wanted her to stay - even though he refused to think of it as love. Mel had been fighting for acceptance and love since the deaths of her parents and going to live with relatives. She didn't want to fall for Rik because she couldn't see there being a happy ending for a prince and a commoner. I really liked seeing how normal a guy Rik was. He was a prince, but he was more interested in being wanted for himself, not what he was. I also loved the way that Mel was so supportive of Rik and his efforts and did her best to help him. I loved the fairy tale ending. I hope that there will be stories for the other brothers and the just revealed half brother.