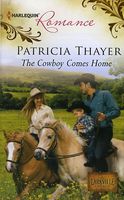 Series: Larkville Legacy (Book 1)
Home...
Single mom Jess Calhoun had learned the hard way not to trust a man in a Stetson; her young son's dad was long gone. But that doesn't stop Jess from noticing good-lookin', sweet-talkin' cowboy Johnny Jameson swagger into town. He's as wild and untamed as the stallions he trains.
...is where the girl who's stolen his heart is
The attraction between them is as fiery as a Texan summer and Johnny finds himself questioning whether he could finally put down roots-in Larkville, a place where two very special people have taken hold of his heart.
Good book. Jess Calhoun is raising her son by herself. She'd fallen in love with a cowboy who didn't stick around when he found out she was pregnant, and now she is very cautious about trusting any man. Johnny has come to the ranch to train a stallion belonging to her late father. Johnny has always been a rolling stone, going where he wanted to and not settling down anywhere. But he has found that being around Jess and Brady makes him want things he has never wanted before. His attraction to Jess is strong and he finds thoughts of forever keep sneaking into his mind. And though he has never been comfortable around children before, Brady makes him think about being part of a family. But he is afraid that he can't be what they need and keeps telling Jess that he won't stay, that moving on is what he does. I really loved Johnny and how good he was with Brady. You can tell a lot about a man by the way he behaves with kids, and Brady knew he could trust Johnny. I loved the part at the rodeo when Johnny came back. The epilogue did a good job of setting up the next book.