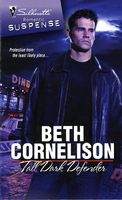 Rescued by a handsome stranger
Undercover investigator Jonah Devereaux barely knew Annie Compton, but that didn't stop him from nearly blowing his cover to save the pretty waitress from a ruthless killer. Convincing the stubborn single mom that she needed his protection 24/7 was a fiery battle of wills, but fighting his burning desire to make love to her was a war he wasn't sure he could--or wanted to--win.
Annie didn't like a mysterious man keeping watch over her, especially one as dangerously attractive as Jonah. But she'd do anything to keep her family alive, even if it meant giving in to her temporary bodyguard's demands regarding her safety...and her heart.
Very good book. Annie was working at the diner, trying to make enough to keep her family going. When she was attacked while making a delivery for her boss. Jonah came to her rescue. She was very wary of him, as she had only recently escaped from an abusive marriage and didn't trust men, especially large powerful ones. Jonah was able to convince her that he was trying to help. I liked the way that Jonah was able to show her that he could be both fierce and gentle. He helped her with self-defense, so she wouldn't feel powerless, and he was fantastic with her kids. He had also been a victim of abuse, and didn't think he had anything to offer Annie because he didn't think he knew how to love. Annie learned from Jonah that she was stronger than she thought, and that she could trust him. I loved the way that they worked together on his investigation, and how, during the showdown, Annie was able to stay calm and use what Jonah had taught her. I also loved that she was able to get through Jonah's fears and show him that he had a lot to give.