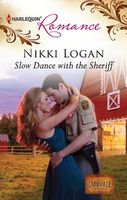 Series: Larkville Legacy (Book 2)
When New York came to Texas...
Ex-ballerina Eleanor Patterson is the darling of Manhattan's society-until she discovers her pedigree background is a lie. So she heads to sleepy Larkville for answers....
Sheriff Jed Jackson never expected to rescue a stunning woman from a herd of cattle, or to be so fascinated by the vulnerability beneath Ellie's tough city veneer. Yet watching her unwind is irresistible, and as he helps her learn to dance again he wants to give both Ellie and himself a new beginning....
Good book. I liked both Ellie and Jed. Ellie came to Larkville to connect with the family she just found out about. No one was at home just then, so she ended up renting a room from the sheriff. Ellie was very skittish and had terrible self esteem. As a dancer she had developed an eating disorder and she is still recovering from the toll it took on her body. I liked seeing her as she started to recover. She also got involved in some things in town and made some friends. Jed came to Larkville as sheriff, escaping his own memories of a slain partner and lover. I really liked seeing the two of them together. Jed could see how fragile Ellie was, and was very patient and gentle with her whenever they were together. He was attracted to her, but afraid of commitment, so refused to give in to his developing feelings. He kept thinking it could be just a fling since she was just visiting and he doesn't date locals. When he found out she was actually family to a local he got angry and said some terrible things to her, and she did too. Just as she was getting ready to leave town her family came back and she went to see them. She and Jed also saw each other again and were able to work things out.