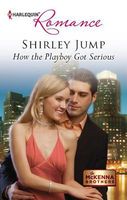 Series: McKenna Brothers (Book 2)
Living the life of Riley?
Riley McKenna has led a charmed life-until now! Cut off from the family trust fund, he's out on his ear and fending for himself.
When he applies for a job at Stace Kettering's diner, she's not impressed by his blue eyes and easy smile. She has a strict zero-tolerance policy toward pampered playboys, having learned her lesson once already!
Riley thinks Stace will fall for him like all the others-but he's about to discover that his playboy ways just don't cut it in the real world....
Very good book. Riley is the youngest of the three brothers and has been very good at just having a good time. He's employed at the family business, but doesn't actually do anything there. He spends his time partying and avoiding responsibility. Finally, his grandmother has enough and tells him it's time for him to grow up. So she cuts off his funds and tells him to go find a real job. He ends up at Stace's diner, where he has been a customer, and is hired as a waiter by the cook/owner. He figures it will be easy to do for a few days until he can talk his grandmother around. Boy, does he get a rude awakening. Stace doesn't want him there. She's familiar with his type and wants nothing to do with him. She figures he hasn't done a day's honest work in his life and won't be able to depend on him. She is also taking care of her teenage nephew and trying to keep her home from falling apart. It takes awhile, but Riley finally starts to realize that he can't just charm his way through this job, and he begins to actually do the job. He moves Stace and Jeremy into his house when they have a roofing emergency, and starts to feel things for her that he's never felt before. I really liked both Riley and Stace. Once he learned the job, he started to feel the satisfaction of doing it well, something he had never felt before. He also kept running away from his feelings because of his fear of loss. I loved seeing him mature and find his place in his world. He was also very good with Jeremy and was able to help him also. Stace was an independent person who hated to ask for help. She had been the dependable one for so long that she no longer knew how to accept help from someone else. She fought her feelings for Riley because she had been hurt by someone like him and didn't want to go through that again. I loved seeing her change also, and loved the way things went at the diner at the end.