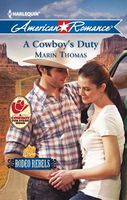 Series: Rodeo Rebels (Book 5)
Never Trust A Man!
That's what Dixie Cash learned from her mother. That and fathers don't stick around. She's pretty independent, and doesn't need help from her baby's daddy, sexy rodeo rider and ex-soldier Gavin Tucker. But he seems determined to do right by her. Just as Dixie starts to imagine that together they might be a family, tragedy strikes-and Gavin shows his true colors. She knew he wasn't honorable!
After what Gavin went through in Afghanistan, he was more than happy to lose himself in the rodeo circuit-and in sweet Dixie's arms. But doing the right thing can be hard sometimes, and when Dixie-Gavin's lifeline-doesn't need him anymore, he's at a loss. His heart still longs for Dixie, though he's not sure he deserves a second chance....
Good book. When Dixie gets pregnant, at first she and Gavin have no plans to marry. She is very independent and has issues trusting the staying power of a man. Her mother didn't marry any of the fathers of Dixie's brothers. Gavin is still dealing with the effects of his time in Afghanistan and feels he's a bad bet as a husband. They decide to get engaged, bowing to pressure from Dixie's brothers and hoping that will give their child a more stable life. As Gavin spends more time with Dixie while helping her set up her business, he finds that when he is with her he is happy for the first time since his return. When tragedy happens and they end their engagement, Gavin doesn't know what to do. He's finally realized he loves her, but she wants nothing to do with him. I really liked both characters. I loved Dixie's ability to stand up to her brothers in most things. Some of their interactions were pretty funny. She also had her dream of setting up her soap business and I loved that she accepted Gavin's help to get it started. Her habit of expecting the worst from Gavin irritated me a bit, but I could see that she was working on it - until the end when she simply ended the engagement without telling him her feelings. Gavin was great too. I liked the way that he worked to help make Dixie's dream come true. He had been using the rodeos as a way to run from his PTSD, but his time with Dixie showed that he could overcome it. He didn't believe that he would be good for her because of it, though he finally realized that if he got some help maybe they could have a future after all. I'm looking forward to seeing more of Dixie's brothers.