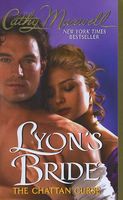 Series: Chattan Curse (Book 1)
"When a Chattan male falls in love, strike his heart with fire from above..."
They call him Lord Lyon, proud, determined -- and cursed. He is in need of a bride, but if he falls in love, he dies. His fervent hope is that by marrying -- and having a son -- without love, perhaps he can break the curse's chains forever.
Enter beautiful Thea Martin -- a duke's headstrong, errant daughter and society's most brilliant matchmaker. Years ago, she and Lyon were inseparable, until he disappeared from her life without a word. Now she is charged with finding Lyon's bride -- a woman he cannot love for a man Thea could love too well.
Very good book. Thea is a widow who is working as a matchmaker. Lyon comes to her to find a bride for him - one that would be a suitable mother for his children but that he is in no danger of loving. His family has been suffering under a curse for a long time and he doesn't want to take a chance. He and Thea had been friends as teenagers until he began to care for her and his father took him away to protect them both. Now they find that their youthful feelings are growing. Thea doesn't believe in curses and has come to love him very much. Lyon knows he cares but refuses to admit it. When circumstances force them to marry, they start a wonderful life together. Then the dreams start and Lyon's health starts to suffer. I really liked Thea and the love she felt for her sons. I also liked the way she didn't want to let the curse define their lives. Lyon finally admitted that he cared for Thea and decided to go for the love for as long as possible. I also loved how good he was with Thea's sons and how much they liked him showed what a good person he really was. In the end, they and Lyon's brother and sister decided to take measures to find out more about the curse in hopes of breaking it, which is where the next book will begin. I really liked both of Lyon's siblings also. In both you can see the tortured effect of the curse, and want to root for them to receive their own happy ending.